---

---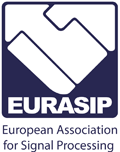 Greece Section
Region 8
IWSSIP'09 AUTHORS INSTRUCTIONS
IWSSIP 2009 authors should strictly follow ALL instrucitons provided below:
PREPARE A PAPER

If you are interested to submit a paper to IWSSIP 2009 conference, you need to prepare a full camera-ready paper on four (4) pages
Only original papers that have not been published or submitted for publication elsewhere can be submitted

 

FORMAT YOUR PAPER
 

CHOOSE A SUBMISSION TOPIC

Select the conference topic that most closely matches the subject area of your paper. This topic selection will be used to match reviewers to your paper, and to include your paper in the most appropriate session in the conference program, so it is important to make a careful selection.

 

SUBMIT A PAPER


ADDITIONAL GUIDELINES

Commercial references (such as Product Names, Brands, or Part Numbers) are not permitted in the body of the paper. Commercial presentation opportunities are available during sponsored events at the symposium. Please contact IWSSIP 2009 Program Chair for more information.

Authors submitting papers for presentation at IWSSIP 2009 should be able to communicate effectively in English. Individuals presenting papers at the symposium should be able to effectively deliver the paper in English to an international audience - authors who are unable to do so themselves, should make an effort to find alternative speakers who can effectively present their paper.

It is expected and required that each accepted paper will be orally presented (appx. 15-minutes presentation time) by its author, co-author or a presenter (non-author). Symposium organizers will not send proceedings hard copies, electronic proceedings or paper separates to no-show authors. No-show authors will be excluded from all future IWSSIP paper submissions.