We invite you to Sofia. Virtually or in person.
The 29th International Conference on Systems, Signals and Image Processing, IWSSIP 2022 will be held in Sofia, the capital of Bulgaria, from June 1 to June 3, 2022 and hosted by the Technical University of Sofia.
IWSSIP'2022 is technically co-sponsored by IEEE - Conference record: #55020
IWSSIP'2022 is part of the "Days of Science" at Technical University of Sofia, with the kind collaboration of the Research and Development Sector at TU-Sofia, Bulgaria.
IWSSIP'2022 is organized by Technical University of Sofia
In co-operation with:
IEEE Bulgarian Section
IEEE CAS/SSC Jt Bulgarian Chapter
Published on: 01.07.2022
IWSSIP'2022 is now over. Thank you for attending and making it a success!
IWSSIP'2022 Chair received 84 submissions. After the review process 72 submissions were accepted for presentation and publication. 237 authors from 42 countries contributed to IWSSIP'2022.
The Proceedings of IWSSIP 2022 is in preparation for publication in IEEEXplore data base. We shall inform all authors once it is ready. Thank you for your patience.
Published on: 01.07.2022
IWSSIP'2022 BEST PAPER AWARDS
Based on reviewers assessments and session chairs recommendations the IWSSIP Chair awarded the BEST PAPER AWARDS FOR IWSSIP'2022.
Congratulations, good health and further success in research to the winners!
BEST PAPER AWARD
offered by Machine Learning and Knowledge Extraction (MAKE) Journal (https://www.mdpi.com/journal/make
Awarded to Edjola Naka and Vassil Guliashki
from Institute for Information and Communication Technologies in Bulgarian Academy of Sciences, Sofia, Bulgaria
Paper title: B-VPL: A Binary Volleyball Premier League optimization algorithm for Feature Selection
BEST PAPER AWARD In "Image and Video Processing"
Awarded to Francisco Das Chagas Torres dos Santos, Rodrigo de Melo Souza Veras, Elineide Silva dos Santos, Luís Henrique Silva Vogado, Márcia Ito, Andrea Bianchi and Joao Manuel R. S. Tavares
from Universidade Federal do Piauí, Mestrado Profissional em Sistema Produtivo/CEETEPS, Universidade Federal de Ouro Preto, Brasil and Universidade do Porto, Portugal
Paper title: DFU-VGG a Novel and Improved VGG-19 Network for Diabetic Foot Ulcer Classification
BEST PAPER AWARD In "Modern ICT in e-learning"
Awarded to Robin Støckert and Aleksander Tidemann
from Norwegian University of Science and Technology and University of Oslo
Paper title: Hybrid Learning Spaces With Spatial Audio
BEST PAPER AWARD In "Security"
Awarded to Marsida Ibro and Galia Marinova
from Technical University of Sofia, Sofia, Bulgaria
Paper title: Hardware Encryption logic on FPGA and Power Consumption
BEST PAPER AWARD In "Wireless Communications"
Awarded to Mohamad Younes and Yves Louet
from CentraleSupélec Rennes Campus, France
Paper title: Interference management for better coverage of future cellular networks
BEST PAPER AWARD
In "Networks" Awarded to
Hristo Ivanov, Pasha Bekhrad and Erich Leitgeb
from Graz University of Technology, Graz, Austria
Paper title: Power Line Communication for Building Automation Using Visible Light Sensing Systems
Published on: 26.05.2022
Conference Program at IWSSIP'2022 (Link)
Published on: 13.05.2022
Two events are running in parallel with IWSSIP'2022: Parallel events
– CEEPUS Workshop for the network BG-1103-07-2223 -Modelling, Simulation and Computer-aided Design in Engineering and Management, Friday, 03.06.2022,8:00-10:00 Room Vitosha 
– Training Workshop on Academic English, Wednesday, 01.06.2022,11:00-18:00, Vitosha Park Hotel, Room Vitosha – Registration Link : https://forms.gle/97iEuTsfGiksaFdV6
Published on: 02.05.2022

We are happy to announce that one of the founders and long-term IWSSIP TPC member Prof. Branka Zovko-Cihlar prof. emer. Dr.S. at the Department of Radiocommunications and Microwave Engineering, Faculty of Electrical Engineering and Computing, University of Zagreb, Croatia, will attend IWSSIP'2022 onsite
Published on: 02.05.2022

The IWSSIP'2022 TPC and Community is supporting the efforts of Ukrainian researchers in these complicated times. We are happy to have at IWSSIP'2022 Ukrainian authors: Keynote speaker, papers and reviewers from diverse Ukrainean Universities.
Published on: 02.05.2022
Social Program at IWSSIP'2022 (Link)
Published on: 02.05.2022
Onsite attendance to IWSSIP'2022 is highly encouraged. From the 1st of May 2022 all anti-COVID 19 are retrieved in Bulgaria.
Published on: 02.05.2022
We are happy to announce a new Keynote Speaker:
Yevgeniya Sulema, DSc in Software Engineering, PhD in Computer Engineering. Head of the Computer Systems Department at the National Technical University of Ukraine "Igor Sikorsky Kyiv Polytechnic Institute", Kyiv, Ukraine.
Published on: 28.02.2022
In response to numerous requests, the full paper submission deadline was extended to March 31, 2022.
Published on: 21.11.2021 – Updated on: 29.12.2021
We are happy to announce our Keynote Speakers:
Ljiljana Trajkovic, Distinguished IEEE CAS lecturer, Professor in the School of Engineering Science at Simon Fraser University, Burnaby, British Columbia, Canada.
Plamen Angelov,  Fellow of the IEEE, of the IET and of the HEA. holding  a Personal Chair in Intelligent Systems at Lancaster University, UK.
Pasquale Daponte, from University of Sannio, Benevento, Italy. Immediate Past Chair of the Italian Association on Electrical and Electronic Measurements, and Past President of IMEKO .
IWSSIP brings together researchers and developers from both academia and industry to report on the latest scientific and theoretical advances, to discuss and debate major issues and to demonstrate state-of-the-art systems. IWSSIP 2022 will follow the successful events previously held in Bratislava, Niteroi/Rio de Janeiro, Osijek, Budapest, Manchester, Poznan, Zagreb, Bratislava, Maribor, Bucharest, Prague, Chalkida, Rio de Janeiro, Sarajevo, Vienna, Dubrovnik, and London. Now IWSSIP is calling for papers about but not limited to the listed topics.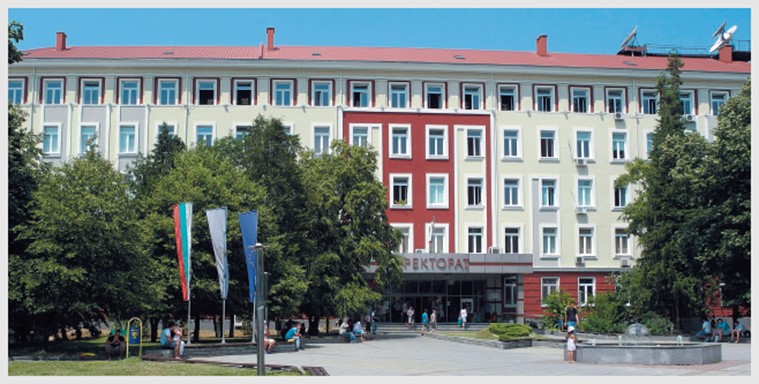 The program includes keynote presented by eminent experts in the field, peer reviewed papers and invited and special sessions about but no limited to the following topics:
Signal Processing
Image and Video Processing
Speech and Audio Processing
Multimedia
Human Machine Interface
Machine Learning
Security
Networks
Wireless Communications
Modern ICT in e-learning
Detailed Call for Papers
Special Session Proposal | January 31, 2022
Full paper | February 28, 2022 (Deadline extended to March 31, 2022)
Notification of Acceptance | April 01, 2022 (Deadline extended to April 30, 2022)
Camera ready paper | April 15, 2022 Deadline extended to May 15, 2022
Early registration | April 26 – May 7, 2022
Registration deadline | May 19, 2022
Conference Days | June 1—3, 2022
General Chair
Galia Marinova
Technical University of  Sofia, Bulgaria
Review Chair
Ilia Iliev
Technical University of  Sofia, Bulgaria
Co-chair: Boyanka Marinova (TUS), Georgi Iliev (TUS), Kalin Dimitrov (TUS), Valentina Markova (Bulgarian IEEE Section)
Organizing Chair
Galia Marinova
Technical University of  Sofia, Bulgaria



29th International Conference on Systems, Signals and Image Processing 2022