PAPER SUBMISSION
The papers should comply to IEEE specifications for conference proceedings articles. Please use Manuscript Templates for Conference Proceedings for A4 page size.
Each paper is limited to a total of four (4) pages including references. Authors wishing to publish an extended manuscript may do so. The authors may include additional pages at a charge equivalent to 50€ per extra page. Invited papers can extend to 12 pages free of any charge.
It is the responsibility of the submitting Author to ensure that the document submitted is viewable electronically and without errors that would prevent the Conference from including the paper in CD ROM or Print Proceedings. In the event a paper is submitted that cannot be viewed or printed properly, the Conference may elect to only publish the abstract of the paper in the Proceedings.
Presenting Authors are required to complete Registration by June 14th, 2013. Authors not having completed the registration payment by June 14th, 2013, will have their papers removed from the Conference Proceeding. Registration Fees for Presenting Authors are non-refundable after June 14th, 2013. By submitting a paper to IWSSIP 2013, Authors accept all submission and payment requirements of the Conference as listed above.
An IEEE Copyright form must be submitted by email to iwssip2013@gmail.com or pcristea@dsp.pub.ro electronically for each paper. Papers for which a copyright form has not been received cannot be published in the Conference Proceedings. You do NOT need to send by postal mail or FAX your copyright form.
The papers submitted for inclusion in IEEE Xplore must hold to the IEEE Xplore PDF specification for compatibility.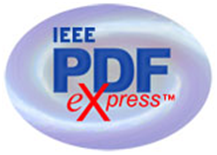 IEEE PDF eXpress is a free service to IEEE conferences, allowing the authors to make IEEE Xplore-compatible PDFs (Conversion function) or to check PDFs that authors have made themselves for IEEE Xplore compatibility (PDF Check function).
Users should use IEEE PDF eXpress site: http://www.pdf-express.org and the Conference ID: IWSSIP2013x
New users should create an account first (using Conference ID: IWSSIP2013x) and will receive confirmation of the successful account setup.
Existing users should use Conference ID: IWSSIP2013x and the existing Email Address and Password, in order to prepare the account for this conference.
Returning users should use for this conference the existing Conference ID, Address and Password.
For each conference paper:
Click 'Create New Title';
Enter identifying text for the paper (use the paper title);
Click 'Submit PDF for Checking' or 'Submit Source Files for Conversion';
Indicate platform and source file type, then Browse to the file and then click 'Upload File'. You will receive a confirmation message after the successful upload.
You will also receive an email notification with your Checked PDF file or IEEE PDF eXpress-converted PDF attached, with the notification if the file passed or failed the verification.
Site opens: 07/03/2013.
Submission deadline: 08/01/2013, but please do it until 07/15/2013.