10th International Workshop on Systems, Signals and Image Processing
IWSSIP'03
September 10–11, 2003, Prague, Czech Republic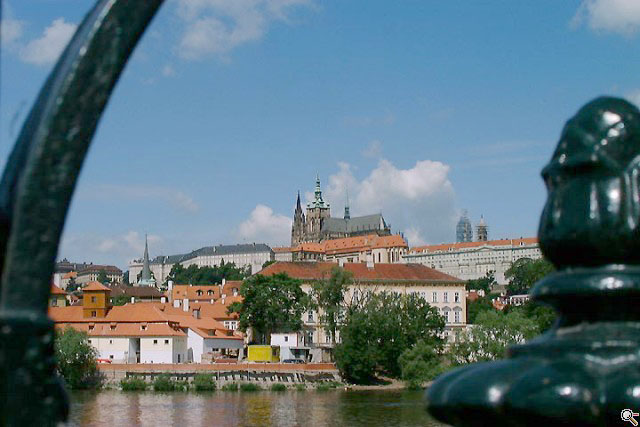 Registration and hotel reservation is now available
PRELIMINARY CALL FOR PAPERS
The 10th International Workshop on Systems, Signals and Image Processing IWSSIP'03 is organized by the Czech Technical University, Department of Telecommunication Engineering, and co-sponsored by the European Association for Signal Processing (EURASIP), in cooperation with the IEEE. IWSSIP'03 is an international workshop on theoretical, experimental and applied signal and image processing techniques and systems, which brings together researchers and developers from both academia and industry to report on the latest scientific and theoretical advances, to discuss major issues and to demonstrate state-of-the-art systems.
SCOPE
General techniques and algorithms. Adaptive DSP algorithms; Filter Bank Theory; Spectrum Estimation and Processing; Non-linear Systems; Digital Transforms; Multidimensional Signal Processing; 3D Vision; Colour Vision; Image Analysis; Image Restoration and Enhancement; Image Representation and Modelling; Speech Processing and Recognition.
Technologies. Neural Networks; Fuzzy Systems; Expert Systems; Genetic Algorithms; Pattern Recognition; Data Fusion.
Image and video coding. Vector Quantization; Transform Coding; Subband and Wavelet Coding; Texture Coding; Fractals; Motion Estimation; MPEG; Standards.
Multimedia networks and protocols. Multimedia Services; Multimedia Servers; B-ISDN and ATM; Internet; Wireless and Mobile Networks; Multimodal Human-Machine Interface and Perception.
Implementations. Analog and Digital Circuits and Systems for Audio, Image and Video Processing; Architectures and VLSI Hardware; Programmable Signal Processors; Real-time Software.
Applications: Bioinformatics; Broadcasting; Control; Communications; Digital Production; Medical; Opto-mechatronics; Remote Sensing; Robotics; Speech; Television; Telepresence; Virtual Reality.
SUBMISSION PROCEDURE
Prospective authors are invided to submit manuscripts in any of the technical areas listed above. The paper length is limited to 4 pages including figures and references. To submit your paper, send four copies of the original manuscript, including a cover sheet stating (1) Paper title, (2) Technical Area(s), (3) Authors' names and affiliations, (4) Contact Author's name and contact details including telephone/fax numbers and e-mail address to:
Roman Boháček
IWSSIP'03
Czech Technical University in Prague (ČVUT)
Dept. of Telecommunication Engineering (K332)
Technická 2
CZ-166 27 Praha 6
Czech Republic

Alternatively, you may submit your manuscript by e-mail in PDF format to the address iwssip@fel.cvut.cz. Please include "IWSSIP'03 Submission" in the subject of your e-mail. Accepted papers will be published in the IWSSIP'03 proceedings.
SCHEDULE
Paper submission deadline: May 15, 2003
Notification of acceptance: May 30, 2003
Submission of camera-ready papers: June 15, 2003
CONFERENCE VENUE
IWSSIP'03 will be held at the Czech Technical University in Prague, Czech Republic.
CAMERA-READY DOCUMENT STYLE
Sample manuscript in PDF
LaTeX
MS Word