5th International Workshop on
Systems, Signals and Image Processing
IWSSIP'98
Faculty of Electrical Engineering and Computing
University of Zagreb, CROATIA
June 3-5, 1998

co-sponsored by the IEEE, IEE, EURASIP, FER & HPT
and in association with IEEE Croatia Section & IEEE UK and Republic of Ireland Section
---
LOCATION AND LOCAL INFO:

Location of the IWSSIP'98 Workshop

IWSSIP'98 Workshop will be held at the Faculty of Electrical Engineering and Computing (FER) in Zagreb. FER is located 5-10 min walking from the main railway station, and 20 minutes of easy walking from main square "Jelacic plac" (Hotel "Dubrovnik", see Accommodation). There is a large parking lot in front of the building. Tram lines 13 and 5 are close to the Faculty building. Tram line 13 will take you to the main square. Hotel "Dubrovnik" is appx. 20 minutes walking from the Faculty building. Picture of FER Congress Hall (Auditorium Maximum) you can see - here...
Address:

Faculty of Electrical Engineering and Computing
Unska 3, HR-10000 Zagreb,
CROATIA

Phone:

(+ 385 1) 6129 839
(+ 385 1) 6129 780
(+ 385 1) 6129 857

Fax:

( + 385 1) 6129 717

Local Information

Zagreb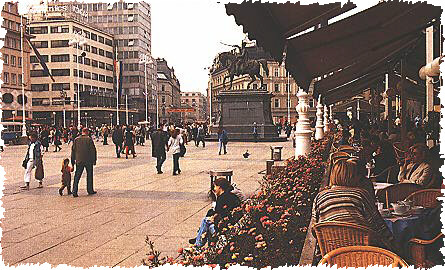 The city is quite modern and central-european. Zagreb is beautiful and rich with events during June.

The US Embasy Web pages give some interesting facts on what should US citizens do before and after comming to Croatia, American view on Croatian habbits and lifestyle, spiced with plenty usefull advices.

The official Web page of Zagreb you can find - here...

Weather

In June the average daily temperature in Zagreb is 24 degrees Celsius. The daily maximum can be as high as 30 degrees. In June you may encounter some rain, so pack an umbrella! Weather forecast for Zagreb (at this moment) you can find - here...




Transport

Taxi from airport to city center appx. 200 HRK
Bus from airport to city (main bus terminal) appx. 20 HRK
Public transportation: by tram AND bus, one ticket appx. 5 HRK

Currency

1 DEM = appx. 3.6 HRK (HRK = Kn = Kuna)
You can find more about Croatian currency KUNA - here...
Check out the up to date list of exchange rates - here...

Phone Code(s)
* Croatia Telephone Country Code
=
385
* Zagreb Area Code
=
• 1 (from outside Croatia)
• 01 (within Croatia)

Tourism

During the IWSSIP'98 Workshop you can visit (on your own) some interesting places like national park "Plitvice lakes", some 150 km south-east of Zagreb. Follow this link for more info about Plitvice lakes in 4 languages. You can visit "Hrvatsko zagorje" north of Zagreb, also. For more information about tourism in Croatia follow this link.

The official Web page of Croatia you can find - here...
---

E-mail: mgrgic@zea.cc.fer.hr